"My work is inspired by my passion for human rights issues and the environment, and by my love of family, music and nature."
~ Susan Dorothea White
News and Editorial
News and editorial on exhibitions, workshops, books and artworks by Susan Dorothea White.
---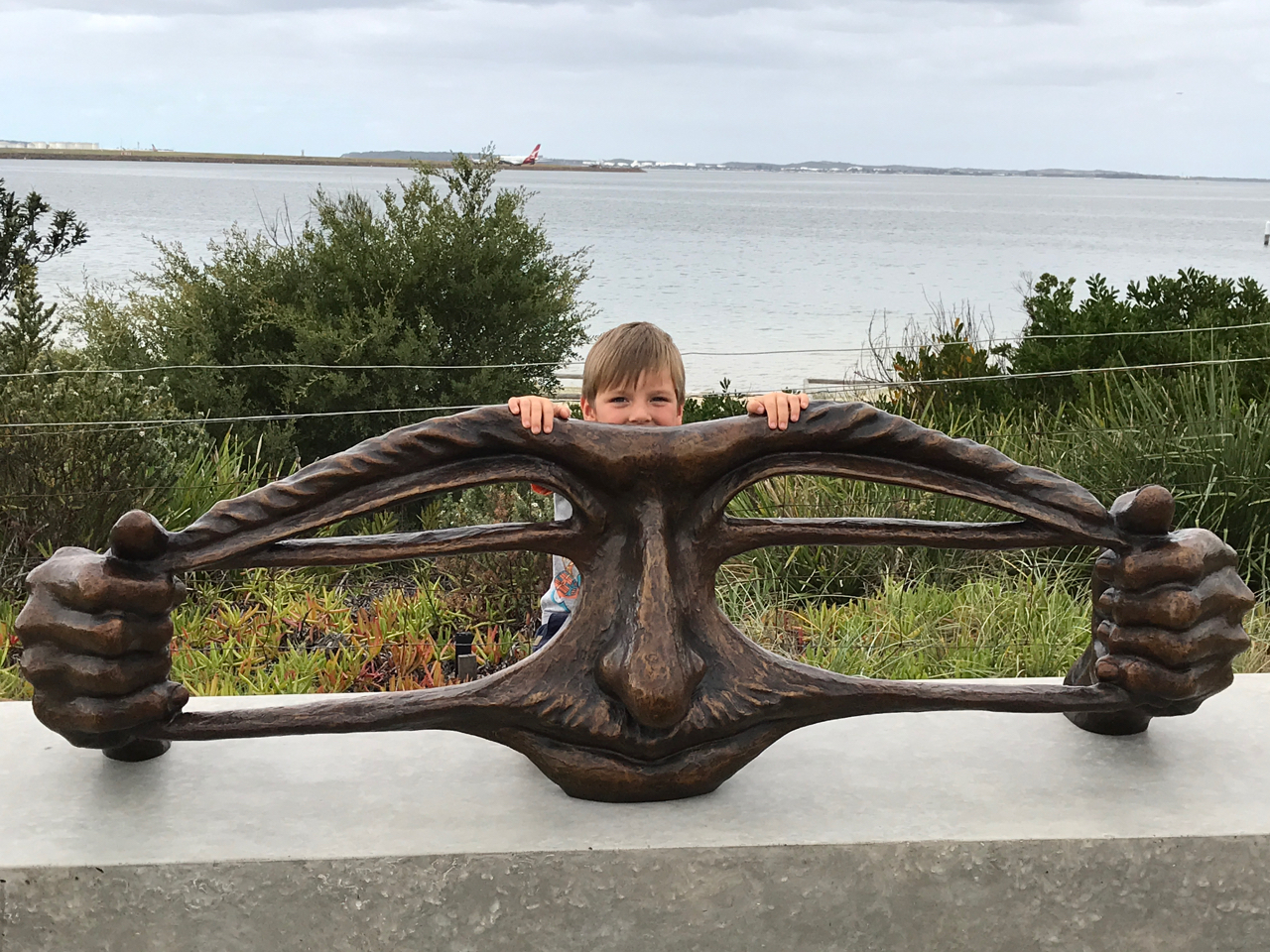 Stretching the imagination
SCULPTURES @ BAYSIDE: Finalist
from 15–29 April (extended to 4 May)
Susan Dorothea White is a finalist in the 2018 Sculptures @ Bayside Acquisition Prize during the Bayside Arts Festival. Her large outdoor bronze Stretching the imagination is on display at Cook Park, Kyeemagh, from 15–29 April (extended to 4 May 2018).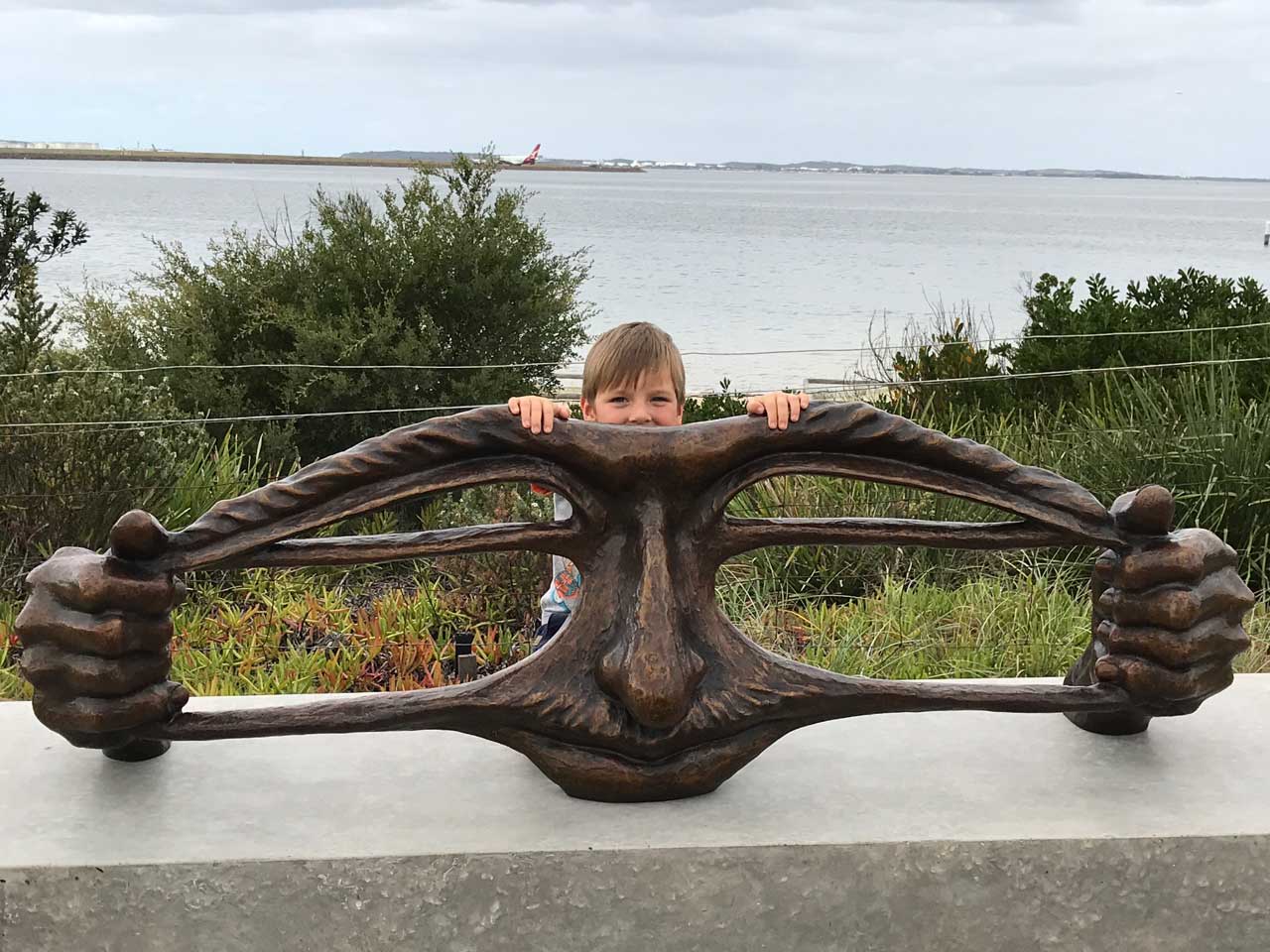 Stretching the imagination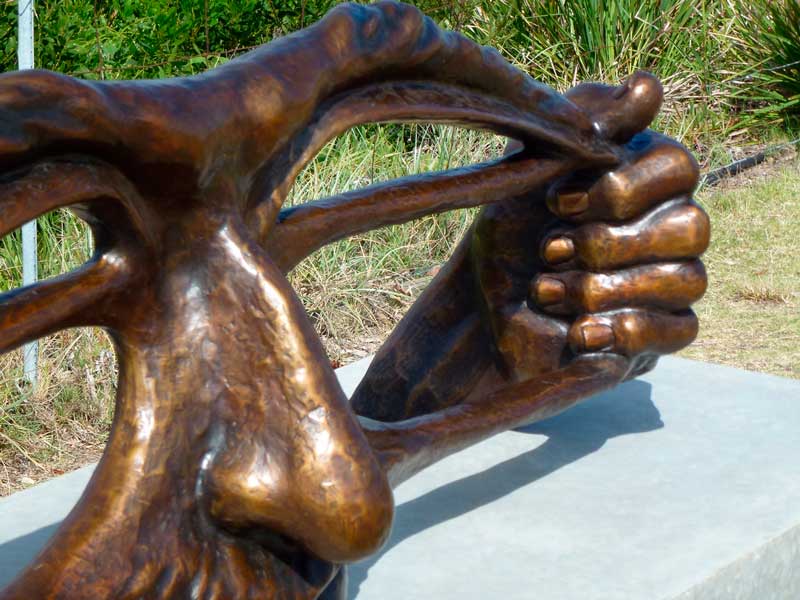 Stretching the imagination - Enlargement
---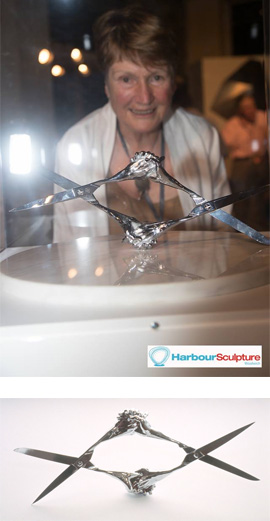 To Cut Both Ways
Winner of the First Prize Inside, HarbourSculpture, Sydney
March 2017
Winner of the Tracey Dixon First Prize Inside at HarbourSculpture 2017 with To Cut Both Ways.
Susan Dorothea White is exhibiting 3 works in the indoor section, Hunters Hill Sailing Club
Clarkes Point Reserve, Woolwich, NSW
16 March - 2 April, open daily, 8:30 am to 7 pm. Entry is free.
Works exhibited: Lost for Words, Measure for Measure, To Cut Both Ways
HarbourSculpture website: https://www.harboursculpture.com.au/events
Left: Susan Dorothea White with the winning sculpture, To Cut Both Ways, at HarbourSculpture. Photo by Peter Kenny, Facebook.
---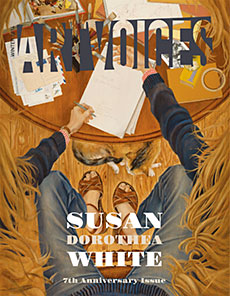 ARTVOICES Feature Article
ARTVOICES Feature Article
Winter 2014
By Susan Kendzulak
Reviewing her paintings, prints, drawings, and sculptures is like looking at a visual diary of her life ... download PDF of complete article below to read more
Click here to download PDF
---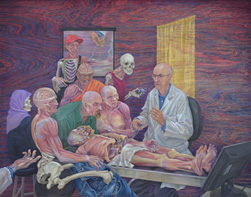 The Anatomy Lesson, 2012
55th Venice Biennale
June 2013
Susan Dorothea White exhibited sculpture and painting during the opening month of the 55th Venice Biennale 2013, in a curated exhibition:
Sapere Aude - Circuito Off

Venue: Palazzo Ca' Zanardi, Calle Zanardi, 4132, Canareggio
Tue - Sun: 11 am - 6 pm
curator: Miguel Angel Cuevas (Seville)
works exhibited: The Anatomy Lesson, Lost for Words, Measure for Measure
---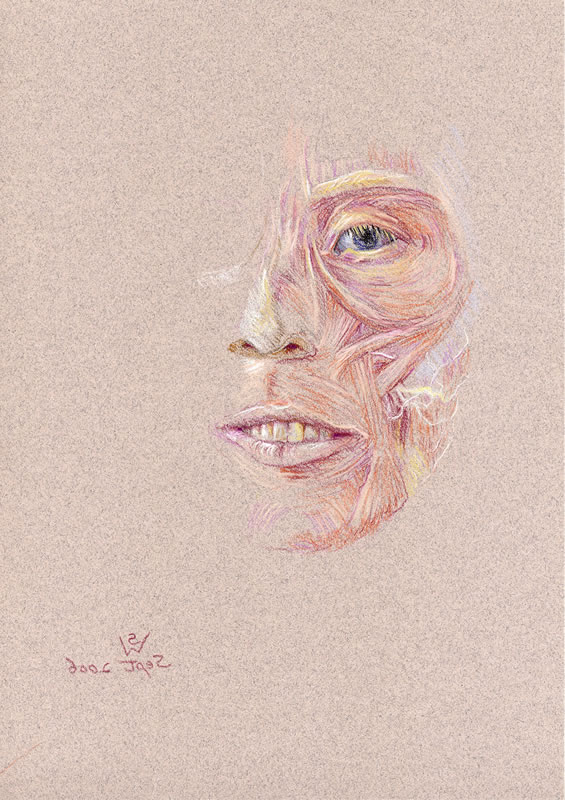 Insight (muscles of facial expression), 2006
Workshops
2012
Basic drawing skills applied to the human body

Susan gives Interactive presentations on how visual art helps us to understand the human body. With pencil and sketchbook in hand, each participant learns to draw the human form while experiencing a journey through art history. Selected artworks are analysed to reveal the insight of artists from prehistoric times to the present

Past workshops
INSIGHTS – How visual art helps us to understand the human body. Guild Hall, Bath, UK, Feb 2012; presentation followed by one-day drawing workshop.
DRAWING ON RODIN – An anatomy drawing workshop to discover what's under the skin. National Gallery of Australia, Canberra, Jan. 2002
ANATOMY DRAWING WORKSHOPS 'Step into Leonardo's Shoes'. Department of Anatomy, School of Medical Sciences, University of New South Wales, Sydney, 2000–2007. Susan co-established these workshops, which were open to the public and gave an opportunity for studying and drawing anatomical specimens in a laboratory under the guidance of the artist and an anatomy professor.
Patricia Karvelas (The Australian, 2003): "The workshops are designed to improve the life-drawing skills of artists and anyone interested in the human body. Students were able to draw muscles, tendons, fascia, joints and bones. Sketching sessions were interspersed with illustrated talks on the influence of anatomy in art history, with slides on works by artists such as da Vinci, Rodin, Alice Neel, and Hokusai."
P. Karvelas, 'Drawn and quartered' The Australian – Higher Education (2003)
---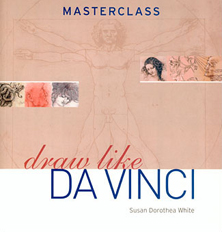 Draw Like Da Vinci
Book on Drawing Draw Like Da Vinci
2006
"Leonardo himself recommended that students study and copy the works of the masters. With this book, you can do just that!" about.com
Cassell Illustrated, Masterclass Series, 2006
ISBN-13: 978-1-844034-44-4. ISBN-10: 1-844034-44-5

Cassell Illustrated, Masterclass Series, 2006
ISBN-13: 978-1-844034-44-4. ISBN-10: 1-844034-44-5
"... Leonardo Da Vinci's drawings are among the most magnificent ever created. But how did he achieve his effects? Choose his materials? Define his approach? Susan Dorothea White, an internationally known artist and teacher, helps students gain an invaluable understanding of Da Vinci's techniques for depicting the human form and dealing with perspective, line weight, light, shade, and character..." (see Book Reviews)
Draw Like Da Vinci contains exercises on many different drawing techniques, including goldpoint and chalk on emery paper, and how to draw a sfumato tomato using pastels. The seven essentials of drawing are analysed as the fundamental P's – Perspective, Proportion, Perception, Position, Placement, Planes, Priority.
Also published in French (2007), Danish (2006), Hungarian (2006)

---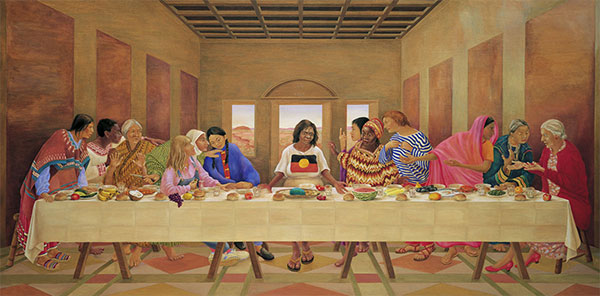 The First Supper
The First Supper
1988
"The First Supper...shows clearly Susan White's thinking about human rights." - Kunstbeeld (Amsterdam)
Provenance: Exhibited in The Blake Prize Touring Exhibition, Australia (1988–89); Galerie Art & Architecture (Director: Ernst van der Vossen), Amsterdam (1990); Galerie am Buttermarkt, Cologne (1991). Purchased in 1991 for public exhibition in Germany; Volkshochschule, Munich (1992–2003); Augustana Hochschule, Neuendettelsau (2003–8). Vandalized in 2008 and returned to the artist for restoration.
Artist Statement
I was inspired to paint The First Supper after Leonardo da Vinci's Last Supper, by the narrative drama and magnificent composition of Leonardo's painting. I wanted to challenge the patriarchal concept of thirteen men on one side of a table that is accepted as a celebrated religious symbol. In place of the men, all with similar features, I painted an international group of women. The significance of the Australian bicentennial in 1988 influenced my painting. There were conflicting attitudes towards this 200th anniversary of the arrival of the first settlers in Australia. Although many celebrated the bicentennial, Aboriginal people and their supporters saw it as a commemoration of a white invasion. In place of the central Christ figure is an Aboriginal woman wearing a T-shirt bearing the Aboriginal flag. The other women represent people living in Australia today from different parts of the world. Foods originating from different regions of the world are positioned on the table, in relation to the women. The figure in the position of Leonardo's Judas, is a blonde holding an Aboriginal dilly-bag in place of the money-purse - she has a can of Coca-Cola and a hamburger, while the rest each have a glass of water and a bread roll. The large rock through the left window is an important sacred site for Aboriginal people, called Uluru; it was returned to them recently as freehold land by the Australian Government.
- Susan D White
---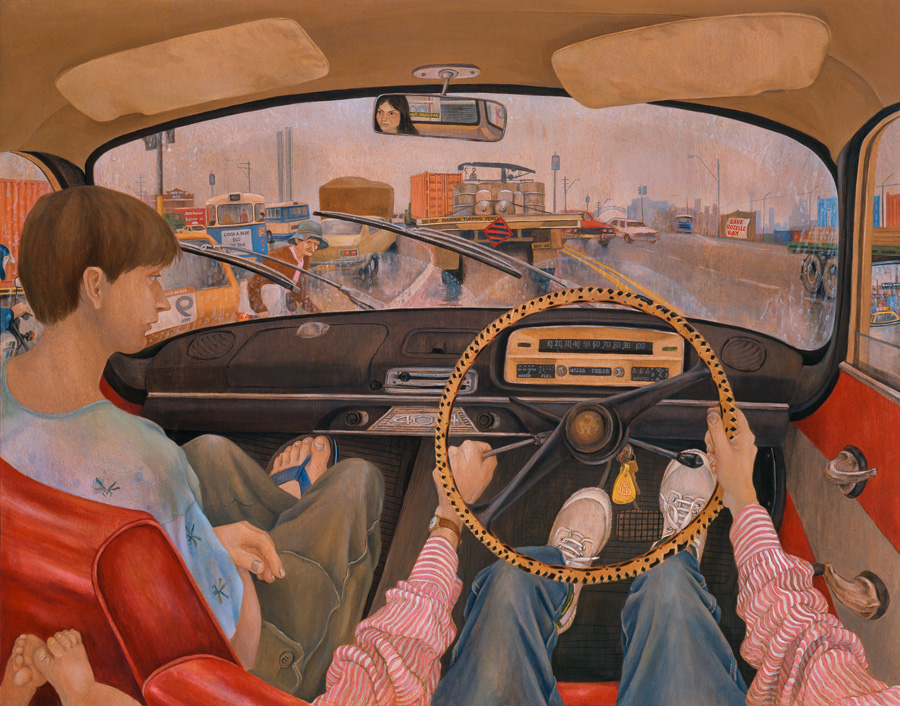 Beatrice the Paper-Seller of the White Bay Intersection
Lost Art: Missing/Stolen
Have you seen any of these artworks? Please CONTACT the artist, any information would be greatly appreciated.

Three PAINTINGS and five SCULPTURES missing in The Netherlands.
Two ARTWORKS (etching; painting) stolen from The Seymour Centre, Sydney in 1978
---
LOST ART: Missing/Stolen