WOLLOMBI VALLEY SCULPTURE FESTIVAL, SCULPTURE IN THE VINEYARDS 2022 10–25 September 2022
Details at: https://sculptureinthevineyards.com.au/
Finalist – Indoor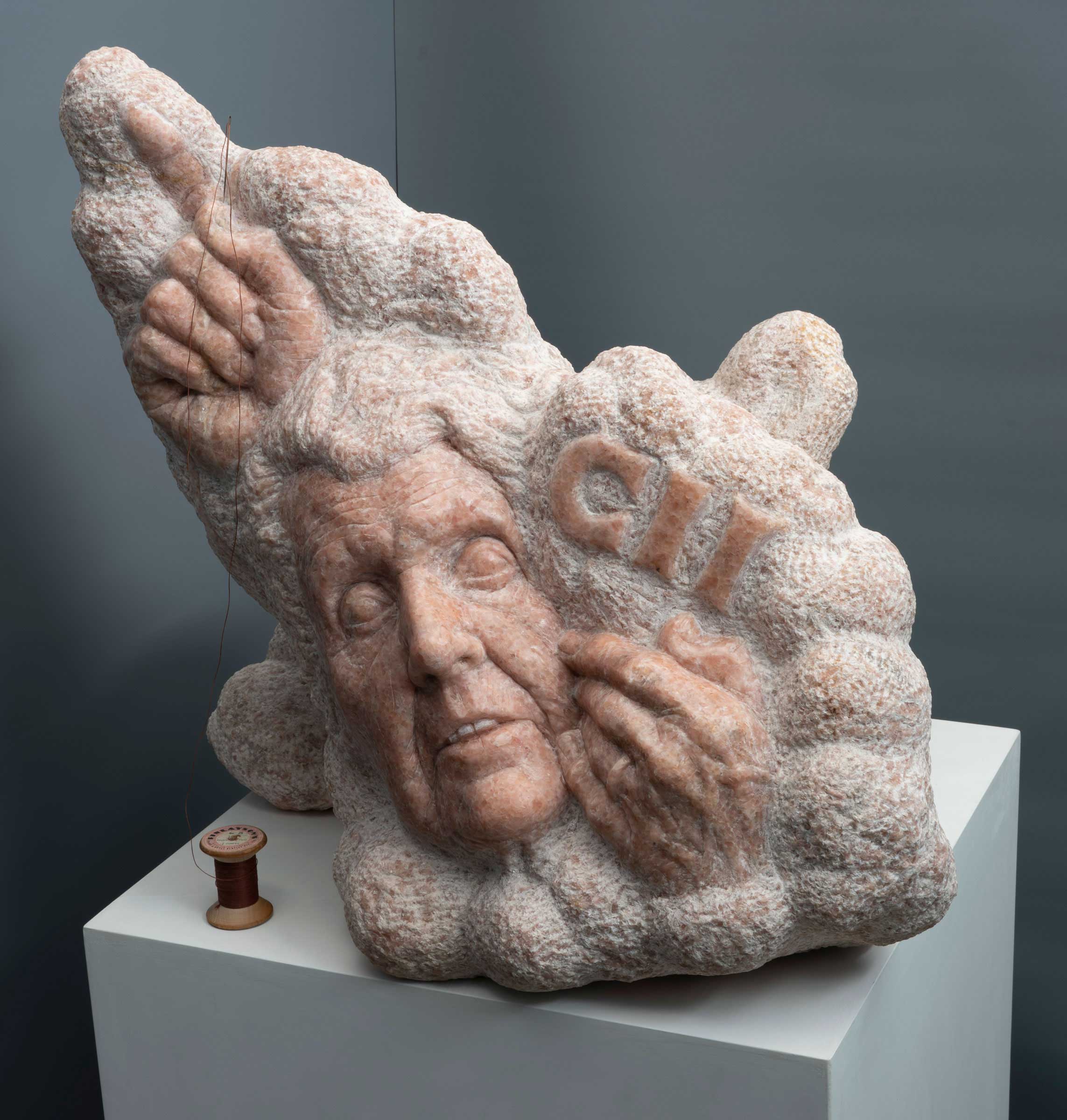 Centenarian Sunset, Angaston marble, vintage cotton reel, needle and thread
Finalist – Outdoor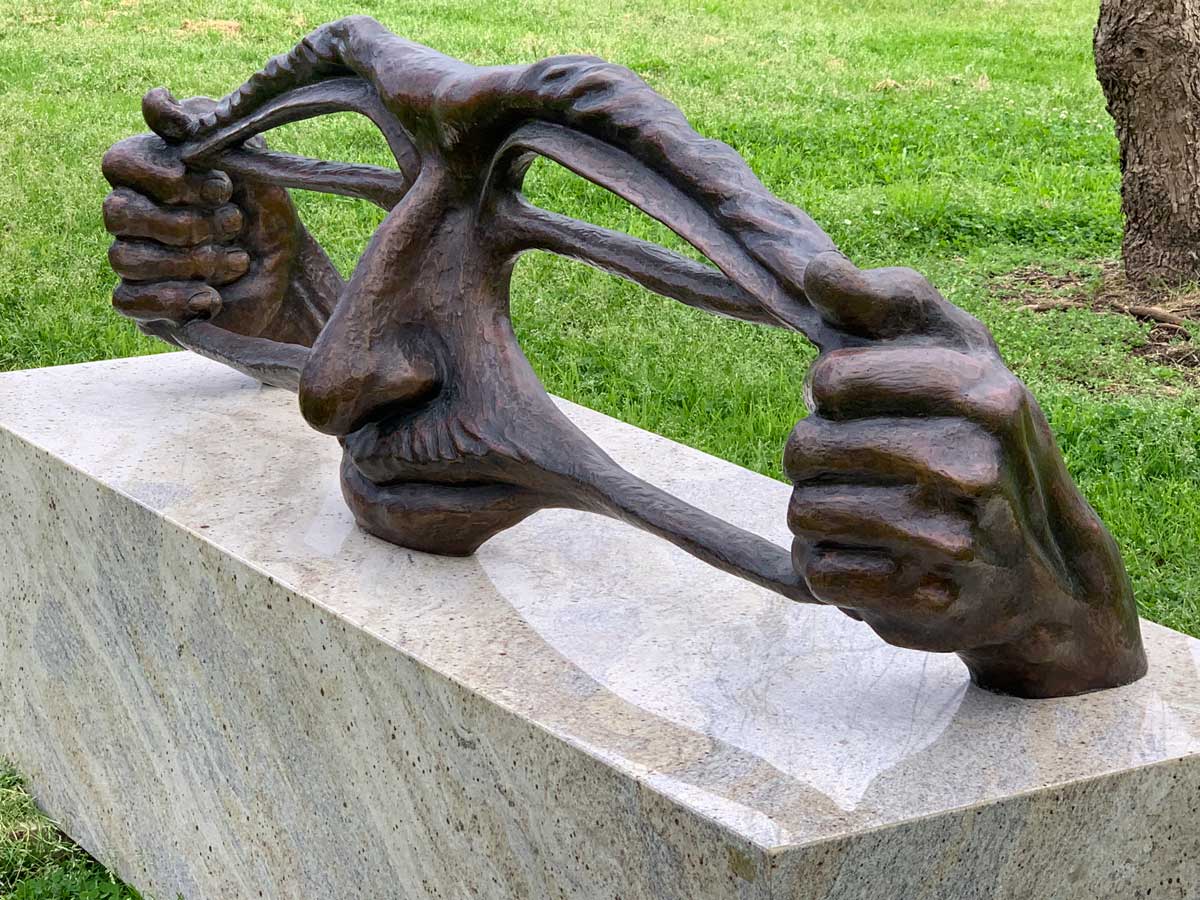 Stretching the Imagination, cast bronze on granite base
---
FINALIST in WOLLOMBI VALLEY SCULPTURE FESTIVAL, SCULPTURE IN THE VINEYARDS September 2021
Online event – view Exhibition Catalogue
Stretching the Imagination, cast bronze on granite base
---
FINALIST in TOM BASS PRIZE for FIGURATIVE SCULPTURE, March 2020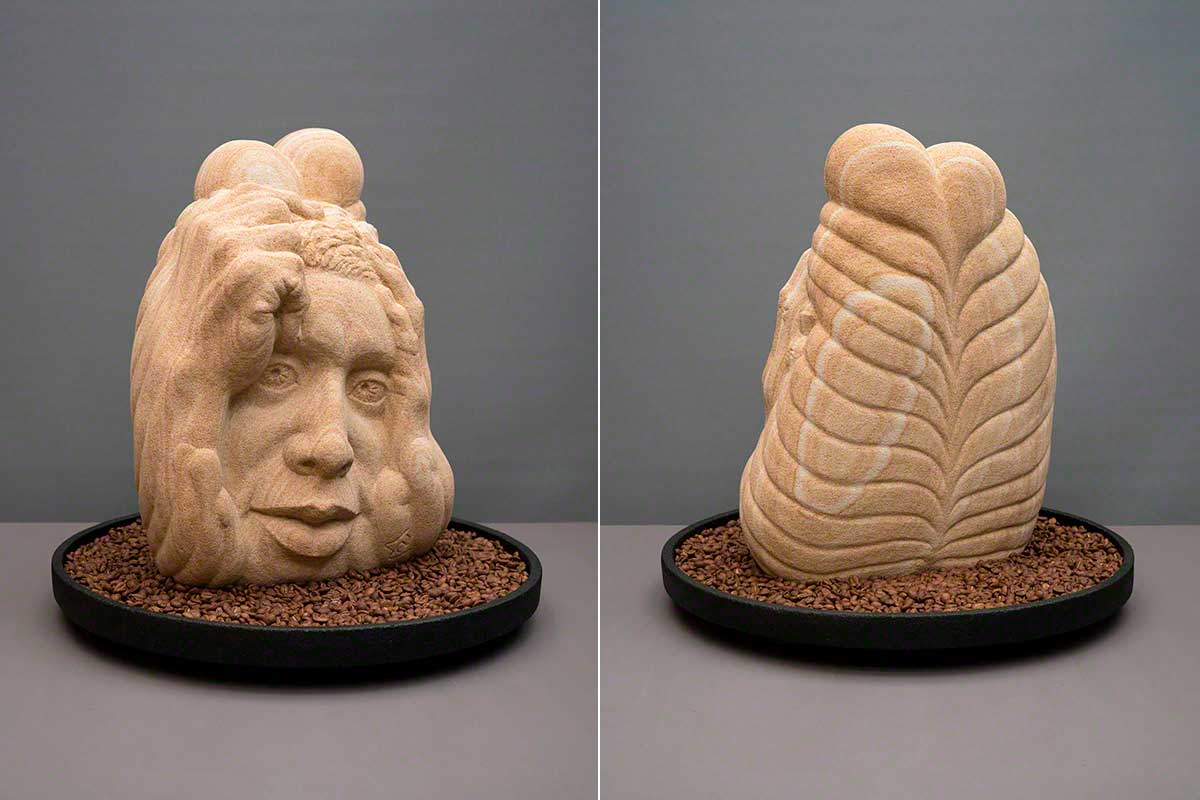 In the Grip of Caffeine, Gosford sandstone, black concrete base, coffee beans
In the Grip of Caffeine is a finalist in The Tom Bass Prize for Figurative Sculpture. Exhibition: Juniper Hall, Paddington (Sydney), 6 to 22 March 2020.
---
TWO BRONZE SCULPTURES included in WOOLLOOMOOLOO SCULPTURE WALK EXHIBITION, 2019-2020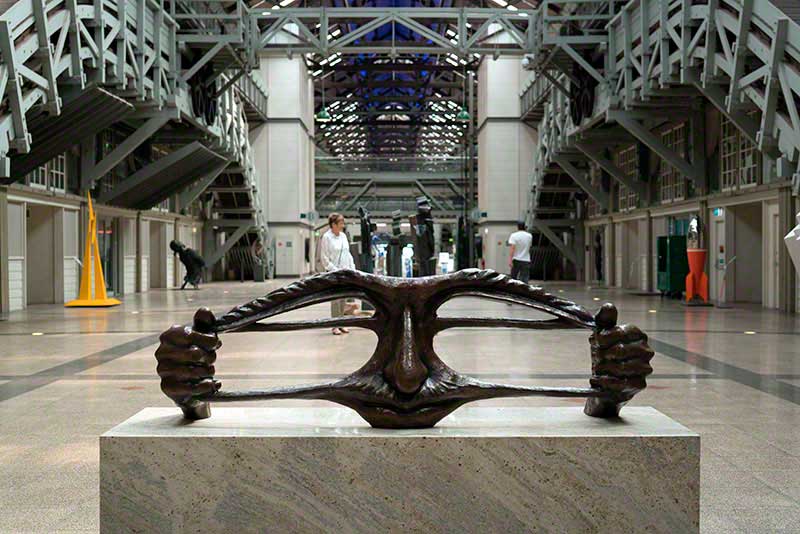 Stretching the Imagination, cast bronze on granite base
Stretching the Imagination and The Spirit of the Willy-willy Wind are currently on exhibition at the historic Finger Wharf, Woolloomooloo, level 2 concourse (inside). Exhibition dates: 5 November 2019 to 30 March 2020 (8 am to 10 pm).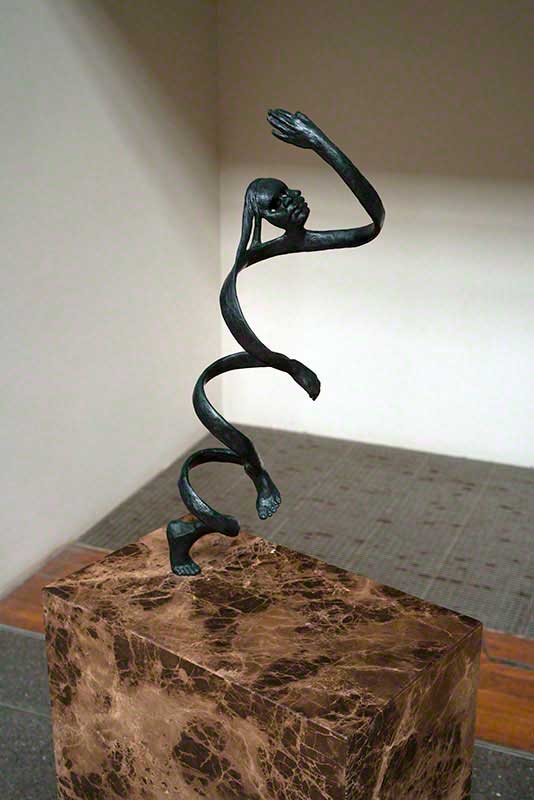 The Spirit of the Willy-willy Wind, bronze on Emperador marble box-plinth
---
JONES BAY SCULPTURE WALK 2019
Stretching the Imagination is relocated to the Jones Bay Wharf, Pyrmont, Sydney, to 26 October 2019.
---
WALSH BAY SCULPTURE WALK 2019
Stretching the Imagination is relocated to the Walsh Bay Arts Precinct, 17 Hickson Road, Dawes Point, Sydney. Exhibition: 1 April to 30 June 2019.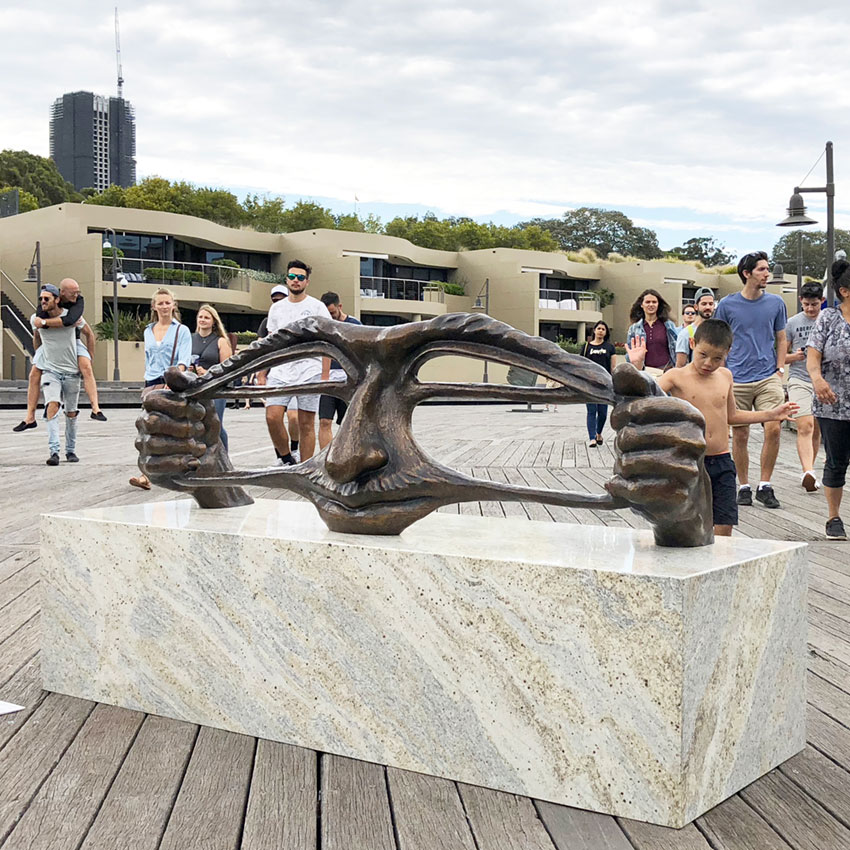 Stretching the Imagination, cast bronze on granite base
---
SCULPTURE ON THE WHARF 2018-19
An exhibition of contemporary Australian sculptures on public view at the historic Finger Wharf, Woolloomooloo, from November 2018 to March 2019.
---
SCULPTURES at BAYSIDE: Finalist 2018
Finalist in Sculptures at Bayside, White exhibited her large bronze Stretching the Imagination at Cook Park, Kyeemagh, during the Bayside Arts Festival, 2018.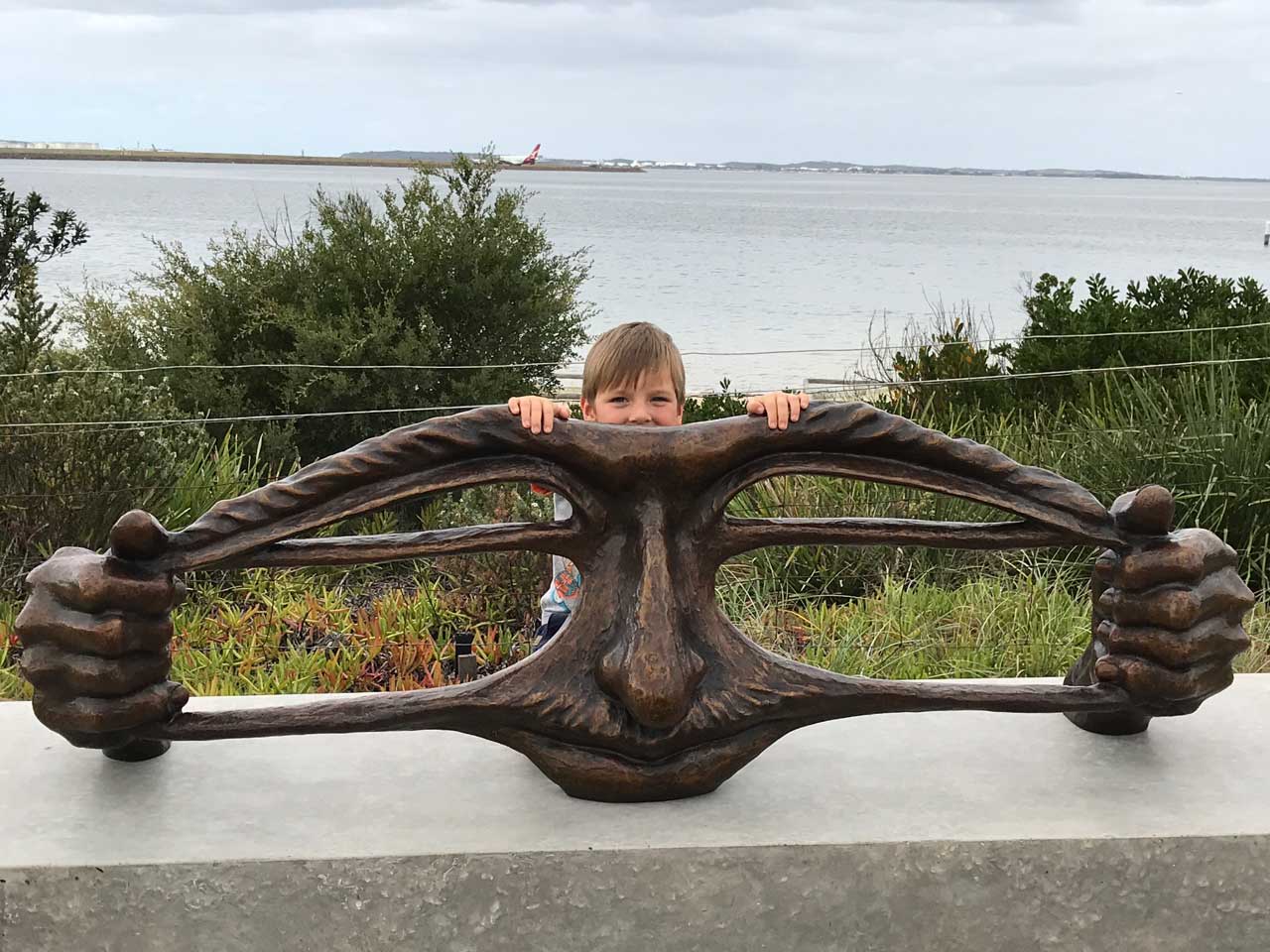 Stretching the imagination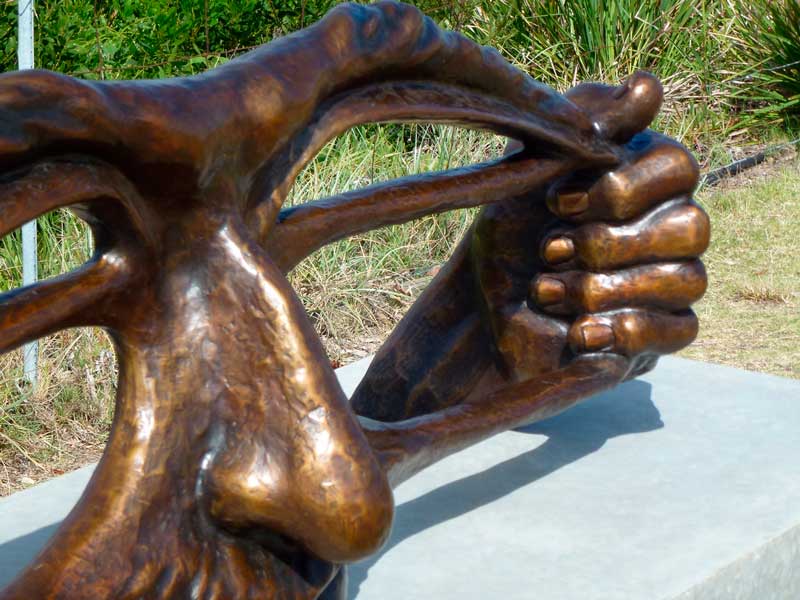 Stretching the Imagination - detail
---
VENICE: Sapere Aude – Circuito Off 2013
White showed two sculptures and a painting in a curated exhibition Sapere Aude - Circuito Off during the opening month of the 55th Venice Biennale, June 2013.
Miguel Angel Cuevas (Univ. Seville) curated the exhibition, held at Palazzo Ca' Zanardi.
White exhibited: Lost for Words, Measure for Measure, and The Anatomy lesson of Dr Freeman.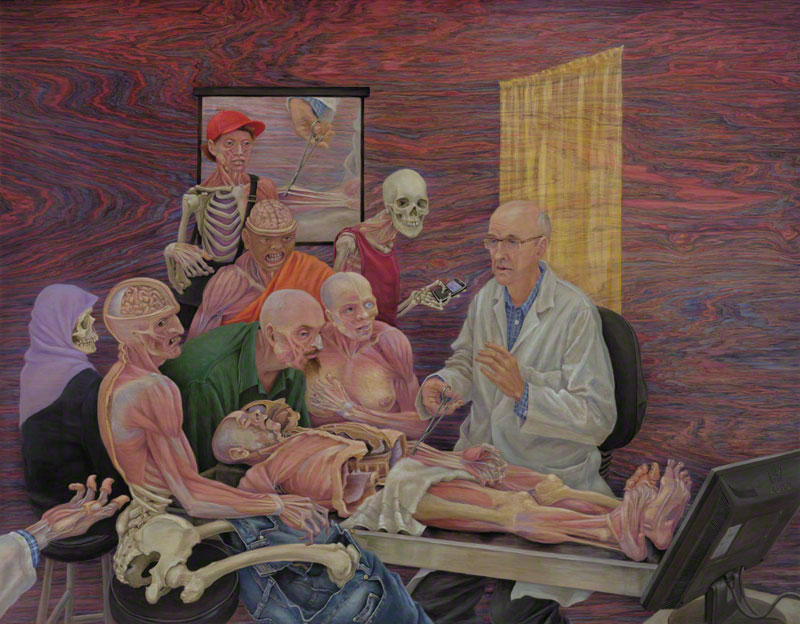 The anatomy lesson of Dr Freeman
---
HARBOUR SCULPTURE: Award 2017
Susan Dorothea White was awarded the Tracey Dixon First Prize Inside for her sculpture To cut both ways at HarbourSculpture 2017, Sydney.
Two other sculptures by White Lost for words and Measure for measure were also selected for this exhibition.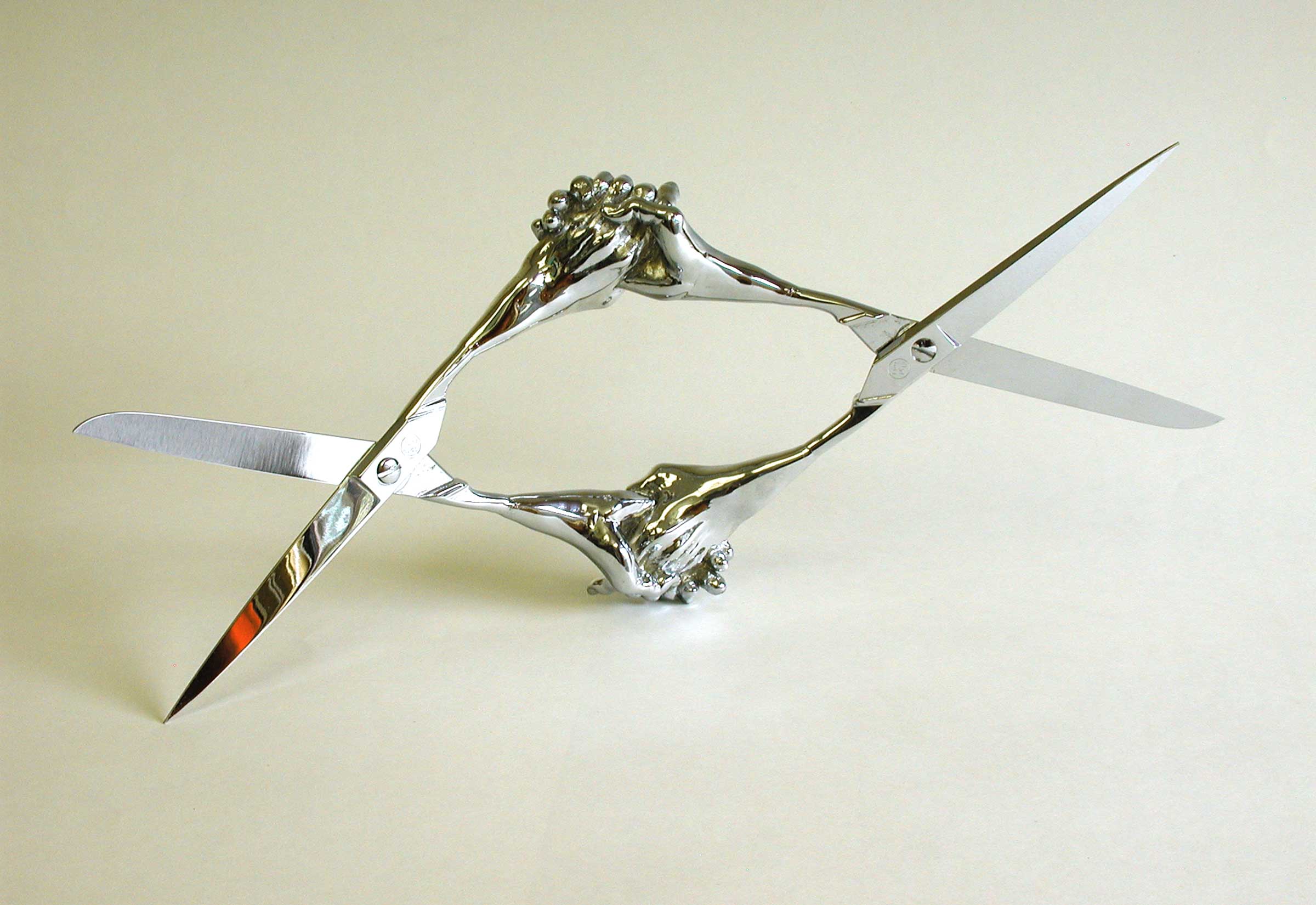 To cut both ways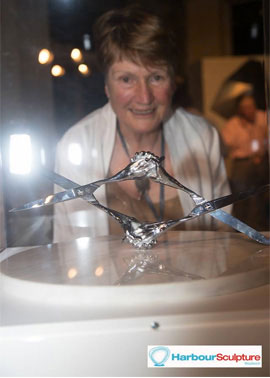 ---
ARTVOICES: Feature Article Winter 2014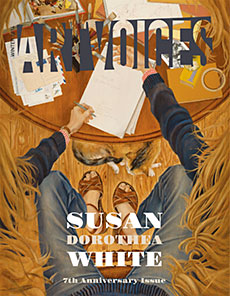 ARTVOICES, 2014 (front cover)
Feature article on White's work by Susan Kendzulak in ARTVOICES, 2014 (Winter issue)
"Reviewing her paintings, prints, drawings, and sculptures is like looking at a visual diary of her life..."
Click here to download article PDF
---
WORKSHOPS: Anatomy Drawing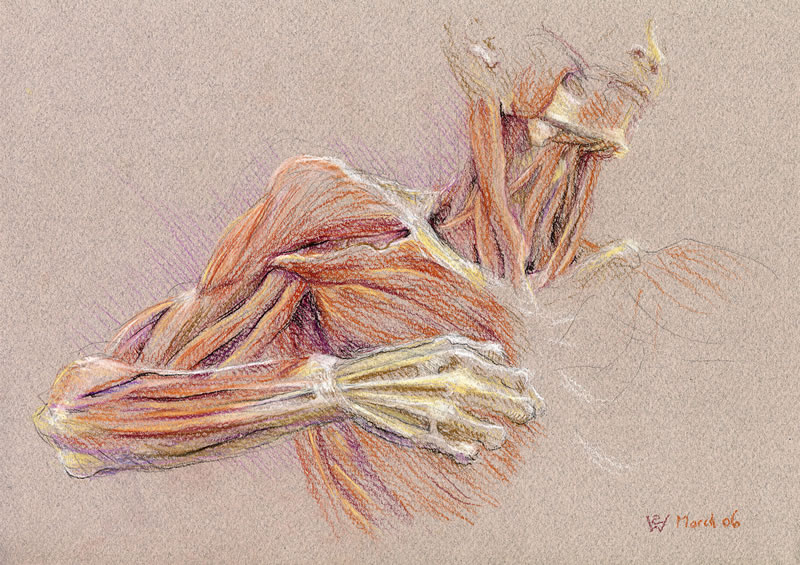 Drawing the bow - Muscle action of an archer, anterior view
PREVIOUS WORKSHOPS

International Embryology Conference for Osteopaths, Guild Hall, Bath, UK, Feb. 2012. Insights – How visual art helps us to understand the human body.
With pencil and sketchbook in hand, each participant learnt to draw the human form while experiencing a journey through art history. White analysed artworks from prehistoric times to the present, revealing the insight of artists about the human body. Her interactive presentation was followed by a one-day drawing workshop.
---
Department of Anatomy, School of Medical Sciences, University of New South Wales, Sydney, 2000–2007. Step into Leonardo's Shoes… Public Workshops in Anatomy Drawing.
White co-established workshops in anatomy drawing, which were held in the Anatomy Laboratory and gave the public an opportunity for studying and drawing actual anatomical specimens under the guidance of the artist and an anatomy professor. Workshops were run for 5 days during university vacations and on weekends.
Click here to download PDF: P. Karvelas, 'Drawn and quartered' The Australian – Higher Education (2003)
---
National Gallery of Australia, Canberra, Feb. 2002. Rodin Anatomy Drawing Program
White co-conducted a drawing workshop with an anatomy lecturer in conjunction with the NGA exhibition Rodin: A Magnificent Obsession (Dec. 2001 to Feb. 2002). The workshop gave the public an opportunity to draw Rodin's sculptures while learning about the underlying anatomy.
---
---
BOOK: Draw Like Da Vinci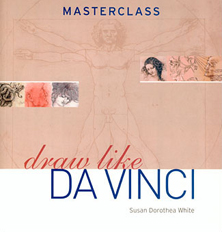 Cassell, 2006
Written and illustrated by Susan Dorothea White; published by Cassell Illustrated, Masterclass Series, 2006 (ISBN-13: 978-1-844034-44-4. ISBN-10: 1-844034-44-5). Also published in French (Eyrolles, 2007), Danish (Bonniers, 2006), and Hungarian (Ventus, 2006).
| | | |
| --- | --- | --- |
| | | |
| Eyrolles, 2007 | Bonniers, 2006 | Ventus, 2006 |
"Leonardo himself recommended that students study and copy the works of the masters. With this book, you can do just that!" about.com
"... Leonardo Da Vinci's drawings are among the most magnificent ever created. But how did he achieve his effects? Choose his materials? Define his approach? Susan Dorothea White, an internationally known artist and teacher, helps students gain an invaluable understanding of Da Vinci's techniques for depicting the human form and dealing with perspective, line weight, light, shade, and character..." Cassell Illustrated
The basic principles of drawing are explained through Leonardo's art. White analyses the fundamentals into seven Ps of drawing – Perspective, Proportion, Perception, Position, Placement, Planes, Priority. Illustrated with over 100 of her drawings, the book contains exercises on different drawing techniques, including goldpoint and chalk on emery paper. Being a left-hander helped White decipher Leonardo's technique.
See Book Reviews
---
PROVENANCE: The First Supper
"The First Supper...shows clearly Susan White's thinking about human rights." - Kunstbeeld (Amsterdam)
Provenance: Exhibited in The Blake Prize Touring Exhibition, Australia (1988–89); Galerie Art & Architecture (Director: Ernst van der Vossen), Amsterdam (1990); Galerie am Buttermarkt, Cologne (1991). Purchased in 1991 for public exhibition in Germany; Volkshochschule, Munich (1992–2003); Augustana Hochschule, Neuendettelsau (2003–8). Vandalized in 2008 and returned to the artist for restoration.
Click here to read Artist Statement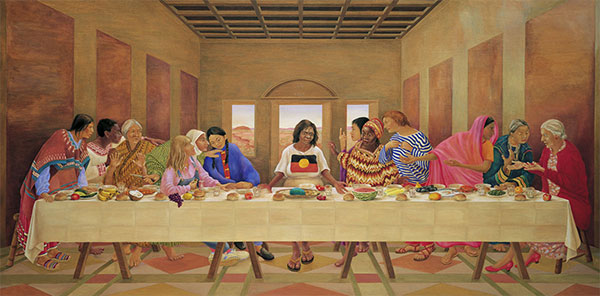 ---