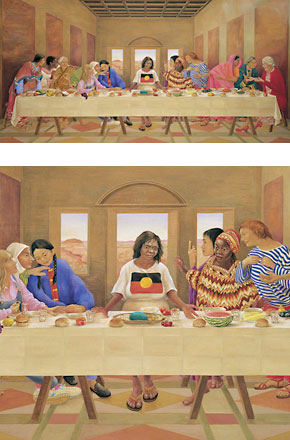 PAINTINGS
"Susan Dorothea White ... explores the most intimate experiences of her life, as well as more topical subjects, in meticulously limned paintings on wood panels. Her ability to examine unflinchingly such personal milestones as her surgery for a benign brain tumour with a dazed self-portrait in a vertiginously askew hospital setting results in some of the most emotionally jarring narrative imagery in recent art."
Gallery & Studio, New York (1998)
The artist has developed a technique using multiple washes of acrylic paint on plywood panels, often accentuating the wood grain to create texture through translucent glazes. Major paintings are developed through preliminary watercolour compositions and from numerous drawings and pen sketches. The artist favours watercolour for spontaneous work, flower and nature studies.
116 Works to view
Page 1 2 3
---
1962 - 1975:
Portraits, especially of family members and children, genre compositions. Changed outdoor landscape style to imaginative landscapes, composed indoors aided by drawings from the scene. Influenced by ancient Chinese artists who used a limited palette and subdued tones, immersing themselves in the landscape before painting at a later date to extract the essence. Techniques: acrylics on composition board while phasing out oils; acrylic on panel; collage; watercolour...
read more